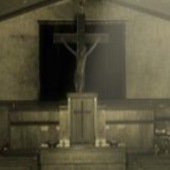 Exmortis 2
Genres :
Scary Point and Click
Description:
Exmortis 2 is part 2 to the popular game Exmortis. In this you find yourself exploring a creepy church after waking up in a lost place. This church is haunted and very creepy. Many mysteries are around, try to find out more about this lonely church.
Instruction:
Click around, have some patience and really look through everything and find items. Easy to get stuck in areas but this game is great.
Game Controls:
Use your MOUSE.
Exmortis 2 Walkthrough Youtube Video: