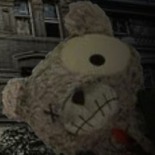 Axylem Rehash
Genres :
Scary Point and Click
Description:
A old abandoned asylum is being haunted by a evil possessed stuffed teddy bear. As an investigator your are on a quest to discover the mysteries of this asylum, and cast away the evil possessed bear. You must find it at all costs! Tons of room mazes to walk through and items to pick up during your quest!
Instruction:
Find important useful items that will lead you to the bear!
Game Controls:
Use your mouse to select items.
Axylem Rehash Walkthrough Youtube Video: