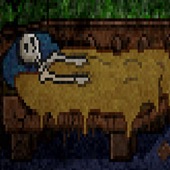 Deep Sleep
Genres :
Scary Point and Click
Description:
In Deep Sleep, you have just woken up. Its an unfamiliar place with locked doors around every corner. Try to figure out what is going on so you can make it out of here. This game features some nice spooky retro graphics. Enjoy.
Instruction:
Try to make it out of this dream.
Game Controls:
Use your MOUSE.
Deep Sleep Walkthrough Youtube Video: