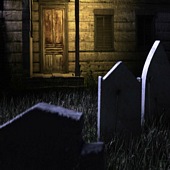 Crypt Keeper
Genres :
Scary Point and Click
Description:
Play as a Crypt Keeper that notices strange things happening in the cemetery. Find clues and items. Unlock new areas. What is going on here, can it be a mysterious force awakening this sacred area> Don't waste time, something creepy is going on here.
Instruction:
Click around, pick up items and try to unlock new areas.
Game Controls:
Use your MOUSE.
Cyrpt Keeper Walkthrough Youtube Video: