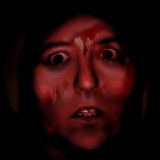 Lodge Massacre
Genres :
Scary Action
Description:
Lodge Massacre is a disturbing scary action/thriller game. A disturbing call has come in into the police station saying everyone is dead at the Lodge and they need help ASAP. A police man is sent to see whats going on at the Lodge. Encounter creepy beings and bloody messes, find needed items and amo used to shoot your gun.
Instruction:
Try to stay alive, shoot creeps, and explore the lodge. Be sure to watch out for traps.
Game Controls:
Enter Key = Select/Pick Up. Arrow Keys = Walk/Duck. Space Bar Key = Shoot.
Lodge Massacre Walkthrough Youtube Video: