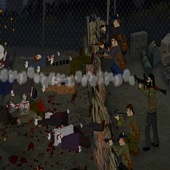 The Last Stand 2
Genres :
Scary Action
Description:
Play The Last Stand 2 a wave based zombie shooting game. Zombies have taken over the world, you and a few lone survivors must defend your selves and not let them kill you. Keep on attacking to save the human raise.
Instruction:
Shoot zombies, upgrade after each wave, try to stay alive.
Game Controls:
W,A,S,D Keys to move. Use MOUSE = to aim and shoot.
Last Stand 2 Walkthrough Youtube Video: