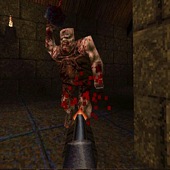 Quake Flash
Genres :
Scary Action
Description:
Flash version of the dark classic Quake FPS games. Go through levels fighting bad guys with viscous guns. Some are soldiers while others are mutated dogs and ghouls. Do whatever you can to kill off these bad guys.
Instruction:
Shoot, kill and try to stay alive.
Game Controls:
Arrow Keys = Move. Space Bar = Jump. Ctrl key = Shoot.
Quake Flash Walkthrough Youtube Video: