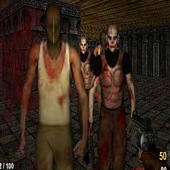 13 More Days In Hell
Genres :
Scary Action
Description:
A first person shooter game that takes place in hell. Based off of the 13 Days in Hell series, this game is in full 3D. Try to survive these creepy dark lurkers will scare the heck out of you. Kill them fast.
Instruction:
Survive and kill all creepy guys to pass the level.
Game Controls:
W,A,S,D Keys = MOVE. Use MOUSE = AIM & SHOOT