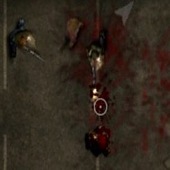 Dead Frontier Night Three
Genres :
Scary Action
Description:
Dead Frontier Night 3 takes it to the streets now. Now with a time limit, killing, running and fighting zombies has never bee so difficult. Try you best to survive and stay alive, through this wrecked dark world.
Instruction:
Try to survive and shoot fast.
Game Controls:
Mouse: Use to aim and left click to fire Cursor & WASD Keys: Movement Space Bar: Cycle through your weapons R Key: Reload