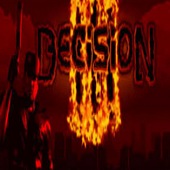 Decision 3
Genres :
Scary Action
Description:
Decsion 3 is the final chapter to the series. The city has once again been taken over by darkness and monsters. Its time to finally wipe them out. Bring back earth to the people. No more time for Darkness and worrying about running.
Instruction:
Shoot, kill, run and try not to die.
Game Controls:
W,A,S,D Keys = MOVE. Use MOUSE = AIM & SHOOT.