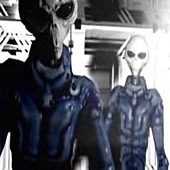 Killer Escape 3
Genres :
Scary Point and Click
Description:
A Killer has escaped the experimental facility. little does he know it was an alien base he was taken to with many mysteries and puzzles to solve. These creepy aliens are after you. They don't want you exploring around, do what ever it takes to get your questions answered about this mysterious place.
Instruction:
Investigate areas solving puzzles and avoiding aliens. Try not to get caught.
Game Controls:
Use your MOUSE.
Killer Escape 3 Walkthrough Youtube Video: