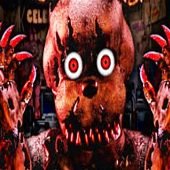 Five Nights At Freddy's 4
Genres :
Scary Point and Click ,Scary Pop Up
Description:
Stuck at home alone in your bedroom. With security cams geared up Freddy and his friends are after you. Stay very paranoid, you are only armed with a flash light to shine at doors and your bed. Keep them way as much as possible.
Instruction:
Check Cams, Shine light, close doors. Try to not let them jump scare you.
Game Controls:
Use your MOUSE to Move. Spacebar = Flashlight. Ctrl key = Close door.
Five Nights At Freddy's 4 Walkthrough Youtube Video: