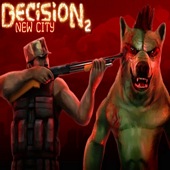 Decision 2
Genres :
Scary Action
Description:
In Decision 2 you are still under attack by deadly zombies and monsters that have taken over the city. Like before you have to eliminate everyone that is after you. Take back this city once and for all.
Instruction:
Survive, kill, upgrade. Try to stay alive.
Game Controls:
W,A,S,D Keys = MOVE. Use MOUSE = AIM & SHOOT.