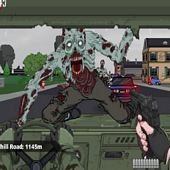 Road Of The Dead 2
Genres :
Scary Action
Description:
Part 2 to Road Of The Dead. This is improved in every way. Even crazier zombie road killing action. Once again try to drive your car to the end of the road. Do whatever it takes to survive. Upgrade your vehicle, avoid innocent people and oncoming traffic, run over or shoot anything in your way.
Instruction:
Drive like you have to survive. Try to make it safely to the end of the road. Just keep on upgrading when you die.
Game Controls:
W,A,S,D Keys = Drive car. Use MOUSE to AIM & SHOOT.
Road Of The Dead 2 Walkthrough Youtube Video: