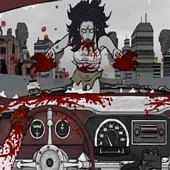 Road Of The Dead
Genres :
Scary Action
Description:
Road of the dead is a crazy zombie killing racing game, where you have to try to make it to the end of the road. Dodge and kill zombies on your way. After each drive upgrade your car to help you along the way. An amazing game, very addicting.
Instruction:
Drive as far as possible, upgrade, try not to crash or die. Kill zombies.
Game Controls:
Use ARROW KEYS = Drive Car.
Road Of The Dead Walkthrough Youtube Video: