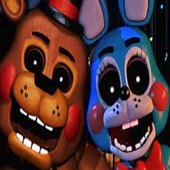 Five Nights At Freddy's 2
Genres :
Scary Point and Click ,Scary Pop Up
Description:
Play Five Nights at Freddy's 2 online. Once again you are a security guard watching over the cams. Try your best to keep Freddy and his pals away from you at all times. Make it to 6:AM to pass the night.
Instruction:
Watch cams, disguise yourself with the mask, use your flashlight. Try to make it through these nights. Try to survive through the night.
Game Controls:
Use your MOUSE to select items. SPACE BAR key = Shine Flash Lights.
Five Nights At Freddy's 2 Walkthrough Youtube Video: