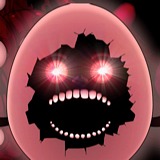 One Night At Flumpty's 2
Genres :
Scary Point and Click ,Scary Pop Up
Description:
Again Flumpty Bumpty and his pals have kidnapped you just so they can force you to play a game of hide and go seek with them. Keep them away from you at all costs. If you can survive to 6AM without being jump scared you and Flumpty will become best friends. Have fun.
Instruction:
Check cams, shine lights and close doors. Try to survive the night.
Game Controls:
Use your MOUSE.
One Night at Flumpty's 2 Walkthrough Youtube Video: