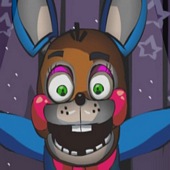 Freddy's Jumpscare Factory
Genres :
Scary Pop Up ,Scary Miscellaneous
Description:
Create your own Five Nights At Freddy's character. This game is not all that scary, but if you play through quest mode, you will have to build the same Freddy character that you see. If you fail to do so you will be jump scared :).
Instruction:
Build your own animatronic, play quest or surprise mode for a scare.
Game Controls:
Use your MOUSE.
Freddy's Jumpscare Factory Walkthrough Youtube Video: