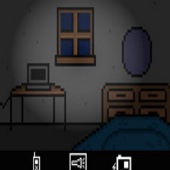 Afraid Of Dark
Genres :
Scary Point and Click ,Scary Pop Up
Description:
Play Afraid Of Dark, a scary game very similar to Five Nights At Freddy's series. Try your best to survive through 3 horror nights. You are armed with a flash light, phone and camera used to keep monsters away.
Instruction:
Use your items try not to get jump scared by a monster.
Game Controls:
Use your mouse.