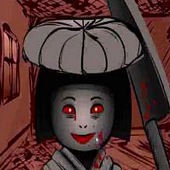 Evil Doll
Genres :
Scary Pop Up ,Scary Miscellaneous
Description:
This evil Doll is after you and will get you if you don't hide good enough. Try to hide from her until morning to beat the game.
Instruction:
Keep on running through rooms, if you hear her foot steps you know she is close by. Try to run and hide as much as you can and not let this evil doll get you.
Game Controls:
Use ARROW Keys = Move
Evil Doll Walkthrough Youtube Video: